Our Approach
We believe in the power of good information to build a brighter future. We pride ourselves on the independence and rigor of our peer-reviewed work. And even when our findings are unexpected or controversial, we believe in letting the facts speak for themselves.
We encourage civil, productive dialogue that inspires sustainable policy solutions in Sacramento and around the state. Our events feature viewpoints across the political spectrum, promoting constructive, thoughtful, and respectful discussions about the issues that matter most to California.
Above all, we are committed to a nonpartisan approach in all aspects of our work.
Our Work
PPIC's work is guided by our conceptual model and strategic plan. The PPIC conceptual model lays out our core activities, essential outcomes, and anticipated impact. It also outlines how we engage our key audiences—decision makers at all levels of government and the individuals and organizations that influence them.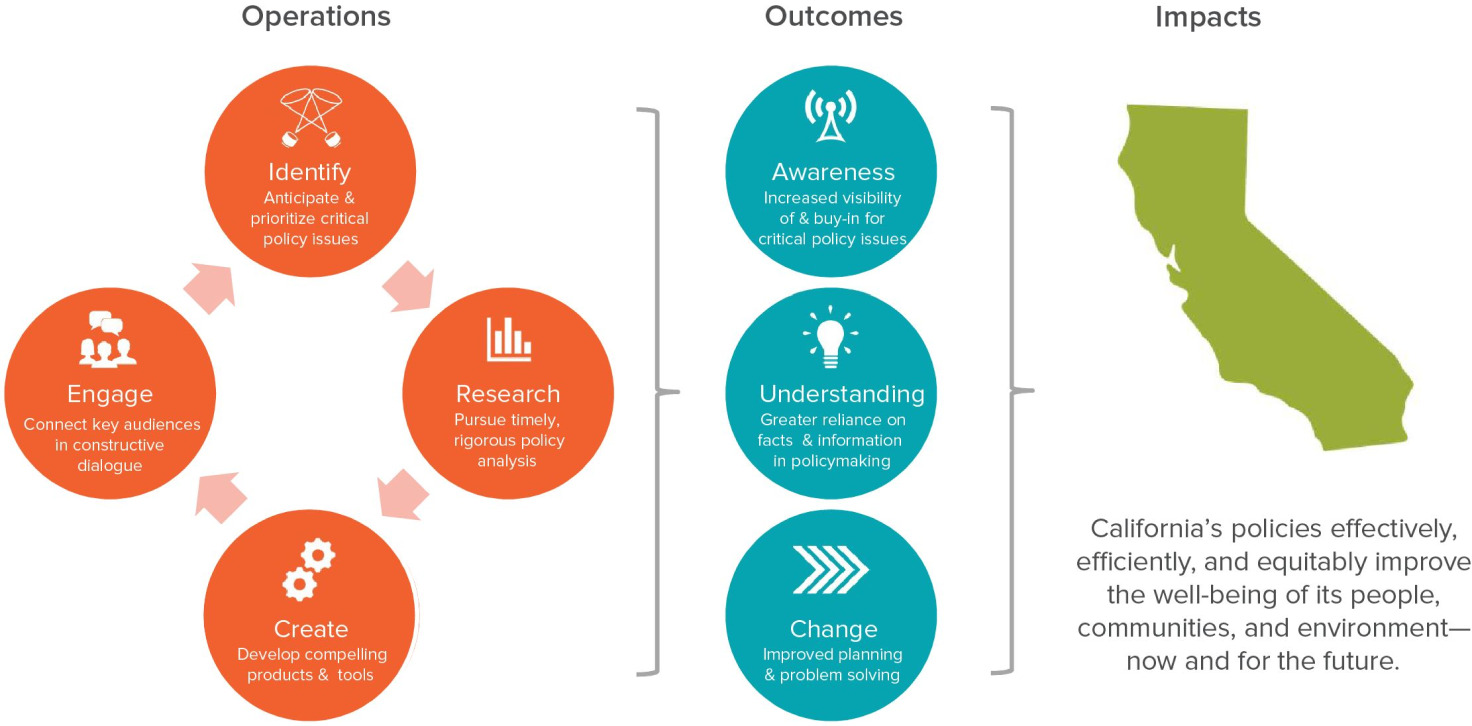 In 2019, PPIC assessed and refined our strategic focus and structure through 2025. As a result of this process—and with the input of our staff, board of directors, and external stakeholders—we developed a 2025 Plan with a stronger, more intentional focus on opportunity. We envision a California with effective, efficient, and equitable public policies that improve the well-being of our state's people, communities, and environment.
The PPIC 2025 Plan establishes research priorities and clarifies our focus: we want to explore how the most diverse state in the nation can expand opportunity across its varied populations and regions.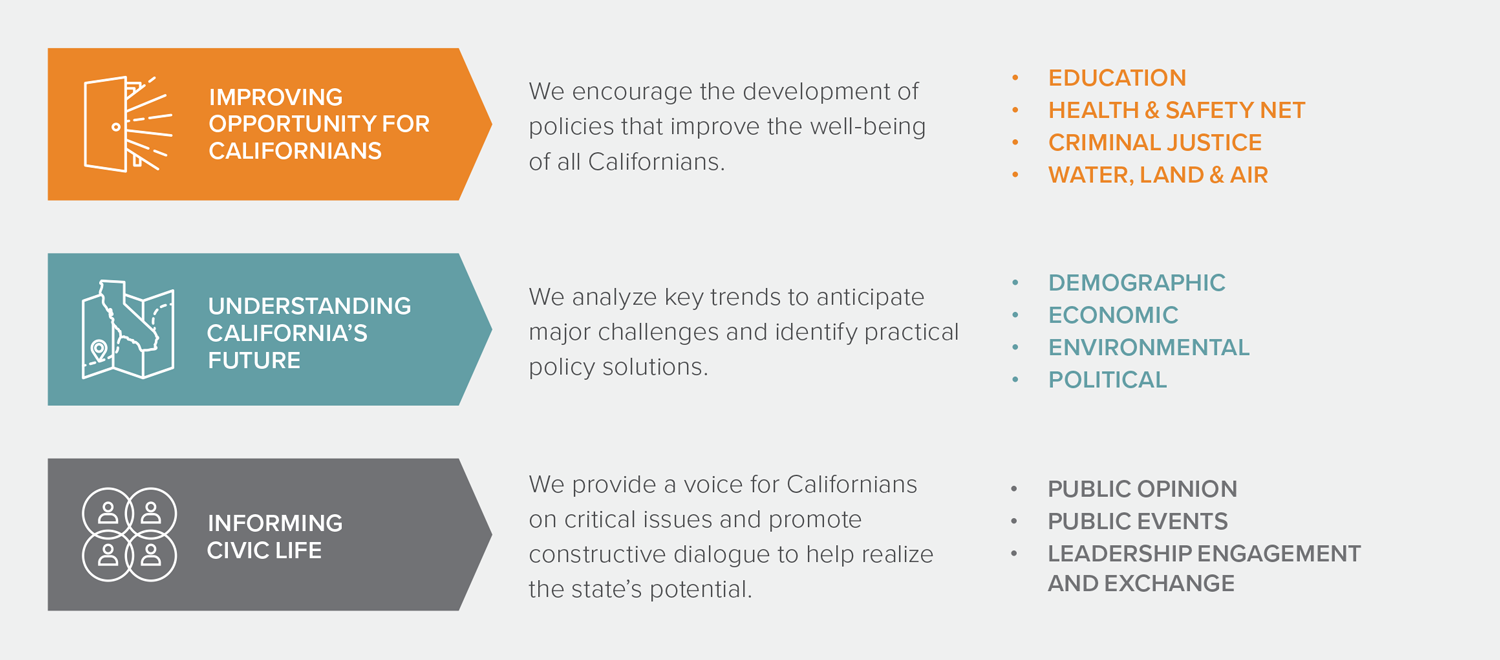 Our Team
Our multidisciplinary research staff includes experts in economics, education, criminal justice, demography, political science, sociology, and environmental resources. The institute expands its research capacity with adjunct fellows and a summer intern program. Talented professionals in communications, development, finance and administration, government affairs, and information technology help us reach our audiences and keep our facilities and operations running smoothly.
Meet our Team →
Our Story
PPIC was founded by three exceptional leaders: Roger W. Heyns, former chancellor of University of California, Berkeley; Arjay Miller, former president of Ford Motor Company and former dean of Stanford Business School; and William R. Hewlett, co-founder of Hewlett-Packard Company. An endowment from William R. Hewlett made their vision of a nonpartisan policy institute possible.
PPIC is based in San Francisco, and the Bechtel Conference Center is housed in the San Francisco office. The PPIC Sacramento Center is located across the street from the state capitol. Tani Cantil-Sakauye is president and CEO of PPIC. Chet Hewitt is chair of the board of directors.
Our Values
PPIC adheres to a set of core values, beliefs, and principles that guide our organization's choices and staff actions as we meet our mission of informing and improving public policy:
EXCELLENCE: We produce high-quality research and information for policymakers. We seek to recruit and retain top talent.
INDEPENDENCE: We pride ourselves on rigorous research that is nonpartisan and objective. We report findings and recommendations that are based on unbiased empirical inquiry.
RELEVANCE: We provide information that is responsive to both immediate and long-term demands of state policymaking. We engage broadly with civic, business, labor, nonprofit, government, educational, and research groups.
TRANSPARENCY: We disclose our methods, resources, and processes and provide free access to our publications to all interested parties.
COMMUNITY: We are committed to a workplace that offers mutual respect, collegiality, collaboration, and inclusiveness; that supports personal, family, and professional development; and that demonstrates leadership in our environmental practices, appreciation for the state's diverse people and regions, and recognition of the importance of public service.